v.3.0.1

Mirror 1 (MajorGeeks.com) (Primary Download)

(More download options at the bottom of the page)
Works on Windows 2000, XP, 2003, Vista, & 2008 32bit (Untested on 64 bit)
Click Here For Detailed CS Fire Monitor Information (Based Off v2.5.5 Still Valid For v3.0.0).
Click Here To Download Screen Saver Source Code (VB6)
Quick note: if you use the CS Fire Monitor Screen saver, CS Fire Monitor must be running for the screen saver to get the data.
So if you use the windows task scheduler to have the program start without logging in you can also change the default logon screen screen saver to the CS Fire Monitor screen saver using this easy method from Microsoft.
http://support.microsoft.com/kb/314493
CS Fire Monitor is a comprehensive monitoring tool for the Windows 2000, XP, 2003, Vista & 2008 platforms. It has an extensive range of live monitoring screens that capture data from many areas within a PC and since the application has its own inbuilt database it is also capable of producing a number of reports which can be saved in a variety of ways. In addition, the Remote Viewer allows the user to access other PCs on the same LAN or over the Internet to extract key information. The application is highly configurable and incorporates several methods of monitoring the same information so that each user can choose the most appropriate method to meet their needs.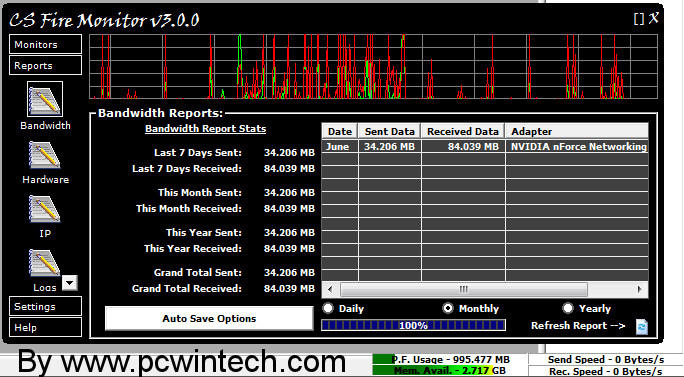 1. Bandwidth Monitor
The bandwidth monitor detects all connections on the system and monitors the amount of data going to and from each connection. Displaying current send speed and receive speed of each connection. The monitor also stores the amount of data into the stats database. Allowing reports to show how much data has been sent and received for the past year.

2. CPU Monitor
The CPU monitor detects the current CPU usage of the system. Also detects current speed of the CPU as well as many other facts on the CPU installed. A real time clock speed is part of the monitor to show real time current CPU speed.

3. Drives Monitor
The drives monitor detects the amount of used, and free space of a selected hard drive. Also gives detailed info for each hard drive and shows total capacity of all hard drives combined.

4. Hardware Monitor
Shows all hardware ever installed on the system that Windows has kept track of. You should see old hardware that is no longer installed but once was and not uninstalled, along with all current hardware. Also it can track any hardware that has been added or removed. It will then store the changes in the stats database for future reports.

5. IP Monitor
Monitors your internet IP and/or your local IP. When your IP changes it stores it in the stats database. Also you can enable the email feature under task monitor to email you or a group when the change of a IP address happens sending them the new IP.

6. Memory Monitor
Monitors physical memory, virtual memory, and Page File. Also shows how many physical memory chips are installed and the size of each.

7. Netstats Monitor
Only works on Windows XP, 2003. Shows all current connections on the computer, but also shows which programs are making those connections. This uses a undocumented API call that is only available from XP and above.

8. Processes Monitor
Shows all running processes and very detailed info on each running process.

9. Services monitor
Shows all services running on the system. Gives detailed info on each service.

10. Software Monitor
Monitors all current installed software. Tracks when software is installed or removed and stores the data in the stats database for reports.

11. Task Monitor
The tasks monitor will be the biggest part of the program as time moves on. Right now the tasks only do 2 things and that is email alerts when your IP address changes. In future updates more and more tasks will be added, a example would be " If this does this then do this". More will be added as per user feedback. If you would like the program to run a tasks when a certain event happens just contact us and we will add it into the program if it isn't already there.

Mirror 1 (MajorGeeks.com) (Primary Download)


Mirror 2 (OlderGeeks.com - USA)



(Direct Download)