(Please Note: If your anti virus says it found a virus of any kind please know this is a false alarm. You can use www.virustotal.com to also see what other antivirus software says.
There are no viruses in any of the programs on this site. If your anti virus says it has one please submit the file in question to your anti virus maker, they will then scan the file themselves, see the program or setup is clean and update their virus def's to not cause the false alarm.)
Works on XP, 2003, Vista, 2008, 7, 8 (32bit & 64bit)
v2.3.0 - FREE


Majorgeeks.com (Primary Download)
(More download options at the bottom of the page)

To view the Help & FAQ for Simple Internet Meter - Click Here
Simple Internet Meter Lite
Designed and Coded By Shane of PcWinTech.com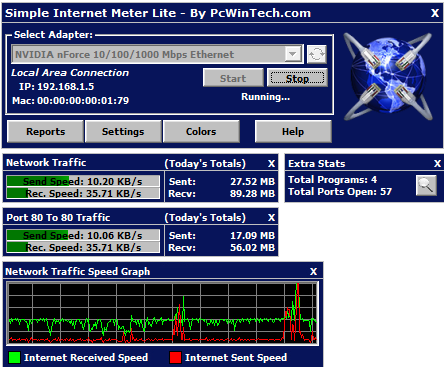 About Simple Internet Meter Lite.
Simple Internet Meter is my new bandwidth monitor. After my program CS Fire Monitor came out years ago I had many requests for added features. Many of those features where not possible to add using the Windows API. Such as seeing what is internet traffic and what is local network traffic. The only way to accomplish this is to look at the packet data. So I made this program using WinPcap and PacketX.dll.
More info on PacketX and WinPcap can be found here.
http://www.beesync.com/
http://www.winpcap.org/
As many of the users know from my other work I am a performance nut. I try to have my programs run fast and clean all the while taking as little out of the system as possible. I put extra effort into Simple Internet Meter to make sure it does its job without affecting the system in anyway. The program will auto clean its used memory any time the memory usage goes above 10 mb. The program is designed to run 24/7.
A great feature I included was the ability for other programs to read the current data from the program. Such as a screen saver. I wrote a screen saver and is included with the program. I included the source code for the screen saver (VB 6) so other programmers can see how to work with Simple Internet Meter. The reason I added this was so other programmers can make their own programs read from it. You may ask besides a screen saver what other program would need this info? Well some new keyboards are coming out with LCD screens and such so one good example is a program to display the stats to that LCD screen. If you have written a program to work with Simple Internet Meter please contact me and let me know, I will be more than happy to post a link as along as the program is safe to use.
Simple Internet Meter Lite & Simple Internet Meter Comparison
| | | |
| --- | --- | --- |
| Feature | Lite | Standard |
| | | |
| Monitor Network Traffic. | X | X |
| Monitor a range of ports | X | X |
| Keep logs of Daily & Hourly Usage | X | X |
| Auto save any report to a file. | X | X |
| Easily change the colors to fit your style and taste. | X | X |
| Resize the monitors to make then very small and transparent, keeping them out of the way | X | X |
| Blend to desktop mode makes the monitors blend to your desktop. | X | X |
| Ghost mode makes the monitors click through. | X | X |
| System tray icon can be animated to show network traffic. | X | X |
| Open network connections and Windows firewall settings from the right click menu of the tray icon. (This makes getting to these areas much easier in Vista and Windows 7) | X | X |
| Repair and view Network Information from the right click menu. | X | X |
| View Detailed Netstats, showing what ports are being used and by what program. | X | X |
| Extra Stats | X | X |
| Remote View (Monitor Multiple Computers from any where in the world) | | X |
| Bandwidth Quotas | | X |
| Quota Alerts | | X |
| Determine what is Internet & Local Traffic | | X |
| | | |
| Price | FREE | $12.95 US |

Majorgeeks.com (Primary Download)


OlderGeeks.com - USA



(Direct Download)
Setup File Info: (3.28 MB) (MD5 Hash - 2ACD8A711248B140240FF4D45BCD3674)

What is MD5 hash? MD5 hash is a code made from every byte of the file, if the file is different in any way the md5 hash will change.
(HashTab is a great easy tool to use to check the md5 hash of files)